The Chateau de la Hunaudaye
The Château de la Hunaudaye is a medieval fortress built in the 12th century on an ancient Gallo-Roman site at the edge of the Hunaudaye forest.
History
The castle of La Hunaudaye was built 800 years ago on a former gallo-roman military camp of the 4th century.
Around 1220, Olivier Tournemine chose this marshy basin to defend the river Arguenon. It is the Duke of Brittany who gives him this mission. In the 13th century, this river separated two countries in conflict, the Penthièvre (country of Lamballe) and the Poudouvre (country of Dinan). La Hunaudaye defended the Penthièvre region where the Duke of Brittany had possessions.
The castle seems not to have been attacked during this conflict. But in the 14th century, it was destroyed during the War of the Breton Succession. This war opposed two great Breton lords who claimed the ducal crown for themselves. On the one hand, Jean de Monfort is supported by the English. On the other hand, the Penthièvre and Blois families were supported by the French. At the beginning of the war, the castle was destroyed by the army of Jean de Monfort.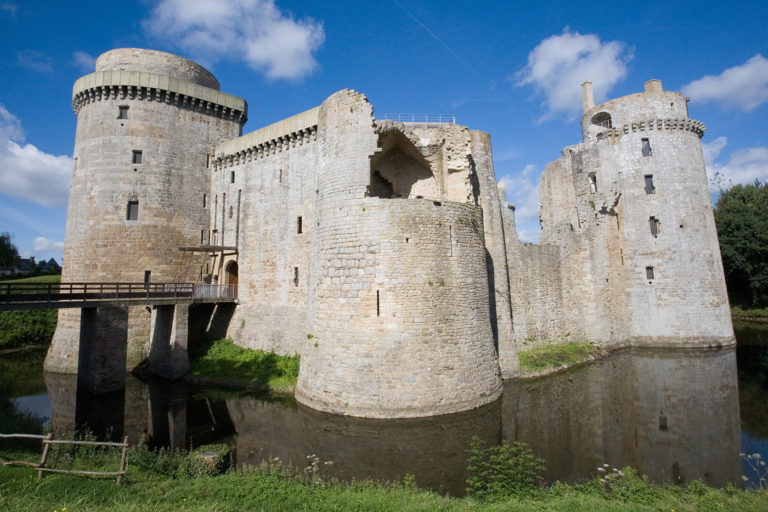 Pierre Tournemine starts the reconstruction as soon as the peace is concluded. It spans nearly a century.
The Tournemine family and the Hunaudaye family are now enjoying a prestigious period. The Tournemines became powerful lords close to the Duke of Brittany and his family.
In 1487, they received the title of baron de la Hunaudaye. In the 16th century, the seigneury covered more than 80 parishes.
This sumptuous period continued until the 17th century, when the Renaissance staircase was built to serve one of the three dwellings (residential buildings reserved for the lord and his family) of the castle. This addition testifies to the diffusion of French and royal fashions and models in the Breton nobility.
But the 17th century was also the century of decline. The Tournemine family is dying out. The castle and its lordship are gradually abandoned.
During the French Revolution, the Chouans roamed the country. Lamballe was worried that the Hunaudaye would be used as a retreat. A group of revolutionaries intervenes more or less legitimately.
In 1793, he burned the castle. The furniture, roofs, wooden floors and archives disappear. The drawbridge is pulled down.
The state of the castle will deteriorate throughout the 19th century when the castle is used as a stone quarry. Following the collapse of a tower, the State decided to classify the monument in 1922. Since 1977, the castle is managed, maintained and developed by the association of the castle of Hunaudaye.
You can continue the discovery of this site through guided tours, exhibitions, workshops for children, shows, and night tours.