The
11 nearest beaches
In Saint Jacut de la mer
Near the campsite Bretagne le Bocage du Lac you will find very nice beaches. You will be able to go swimming, to taste the joys of idleness lying on your bath sheet, to make beautiful walks or to go fishing.
Among the most beautiful beaches of North Brittany and Côtes d'Armor, we recommend the very beautiful beaches of the peninsula of Saint Jacut de la Mer.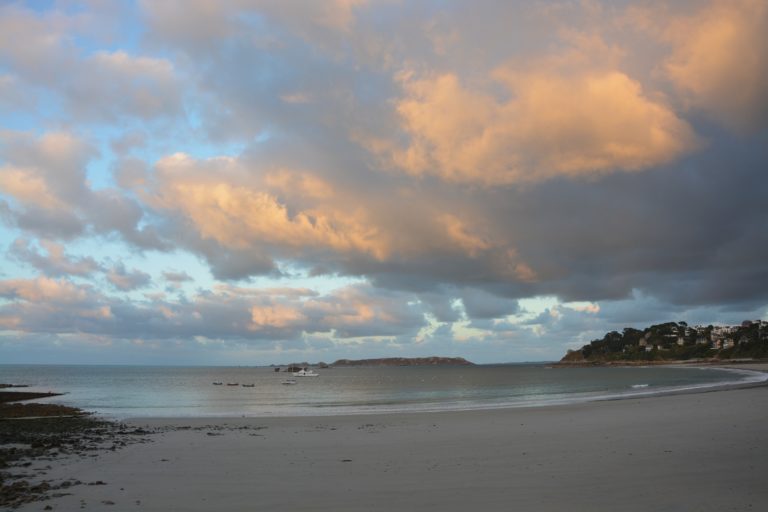 The peninsula of Saint Jacut de la Mer offers a peaceful setting. In the past, the village of Saint Jacut de la Mer was a fishing village specialized in mackerel and ray fishing. The fishing activity has strongly decreased and the village has become a charming seaside resort. One of the most beautiful of the Emerald Coast. From now on, fishing is mostly done on foot, as a leisure activity. On the beaches of the peninsula, langoustines, oysters or periwinkles are waiting for you.
11 Beautiful beaches in Brittany
All around the peninsula, the 11 beaches of Saint Jacut de la Mer offer a variety of atmospheres to meet everyone's desires. The most famous, the supervised beach of Rougeret, is located in the north of the peninsula. It offers an exceptional panorama with changing lights on the islands of the Ebihens. At low tide it is possible to reach the Ebihens archipelago and its 20 hectares of preserved nature. Very popular with kite-surfing enthusiasts, Rougeret beach has a nautical center as well as restaurant services. It is one of the most beautiful beaches in Brittany.
In addition to the Rougeret beach on the peninsula of Saint Jacut de la Mer, you can also go swimming on the Haas beach, the Béchet beach or the Rocher Plat beach. Sheltered from the wind, on the eastern side of the peninsula of Saint Jacut de la Mer, the beach of La Manchette offers, like all the beaches of the western side, very beautiful views of the peninsula of Lancieux.